2 Comments
This weeks post I am going to share a readers question and my response about weight training his younger athlete. If you have a question you would like answered feel free to shoot me an email.
Enjoy!
Q:
What would you recommend for a 13 yr old 7th grader, honestly? I am not wanting him to do more than hi-rep, bodyweight exercises at most. He's 5'9" (and growing), 110 lbs. throws pretty hard – has a nice arm, and I want to keep that intact. Staring the travel ball with a good, established organization in IL this year…what are your thoughts on throwing curve balls, if taught by a former pro pitcher, etc?  (I am leery of that).
A:
As I said in the webinar, if you can play organized sports, you can train (and its safer!). High rep stuff is fine, but that's where we usually see injuries because of fatigue and poor form. Moderate weights would be a better option for him. Move well and then move higher weights.
Here is my take on youth curveballs; research wise if it's being taught properly (mechanically efficient) there is not a huge chance of injury. That being said, there are a ton of bad coaches out there (not that his is bad–I have no idea), but being a former pro doesn't automatically qualify you to be a "good" or well researched coach.
From what I have seen in the rehab and coaching world, poor progression of throwing (jumping up in intensity or mainly volume) too quickly leads to lots of issues. The kids who throw "too many curveballs" are usually the kids who cant compete with just a fastball.  And as I have written about before, skipping on fall/winter baseball is a must.
At this point in my career, if my child was a pitcher in little league I would encourage fastball and change up location and speed, that alone will keep batters off balance. Once they start shooting through puberty (13-15 years), I would let them play with curveballs with a coach that is highly qualified. I grew up with a coach who said "never two curves in a row" for both practice and play. Great rules to help set-up hitters and stave away from overuse.
The image attached is a visual of when portions of the arm ossify. The medial epicondyle is the last to fully fuse and we should always proceed with caution.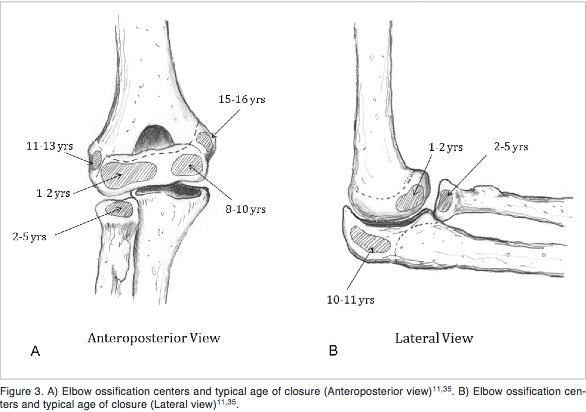 On the other hand, Phil Rosengren does a great job at expressing why he thinks kids should be tough the curveball at a younger age. To be frank, I don't disagree with any of his points. And to Phil's credit, every athlete he has sent me has never had an elbow pathology.
Many people are racing for their kids to be on ESPN in the LLWS. I think they are racing the wrong race. I've had the opportunity to work with many kids whom have been on ESPN before the age of 13… some of what they are dealing with mentally are so unfathomable it's disgusting. Not to mention some of the injuries I've seen especially from the "best" players on those teams.