2 Comments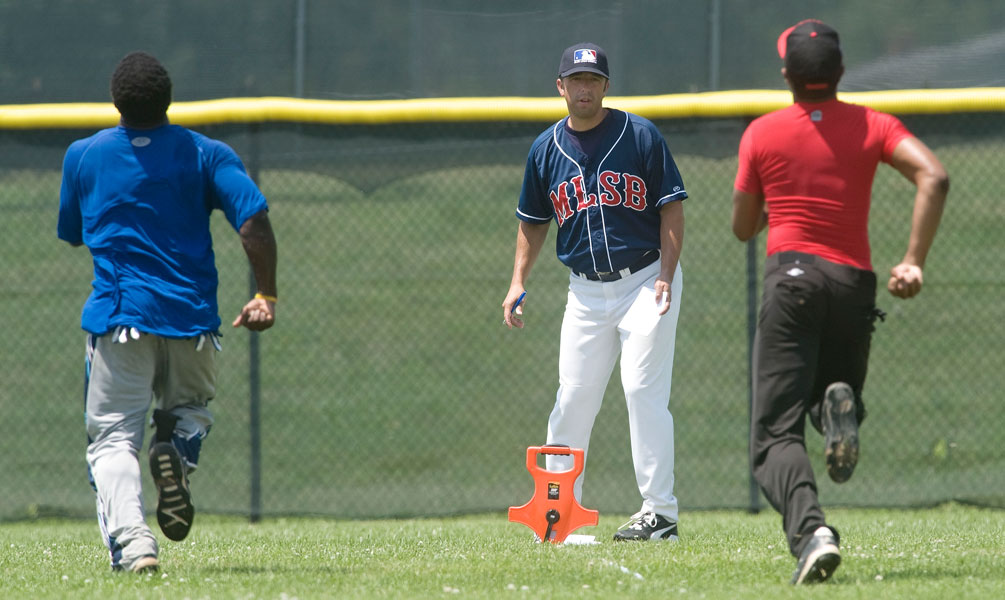 Summer time is almost here and for many high school players wishing to play college baseball this means showcase season. Showcases are a double edge sward. There are some outstanding showcases that allow you the opportunity to interact in with college coaches at schools you have interest in while getting a feel for their personality, skill set, and coaching style (yes, you are interviewing them as much as they are you). On the other end of the spectrum, there are factory style showcases that allow you and 500 other ball players just enough time to take 3 ground balls, 10 swings, and run a 60 all for the camera and then you are done for the day. Not the ideal situation for most.
I like to remind my athletes that a showcase is a job interview. A part of getting the job is absolutely how well you perform, but do you look the part? How well do you interact with the other players? What are your interactions with coaches? Do you look like you are having fun? Remember coaches are looking for people they want to have apart of their baseball family for 20-60 hours a week for 4-5 years!
ARE YOU READY FOR A SHOWCASE?
Have you done skill work for baseball at least 2x per week outside of practice?Realize that practice is just the beginning. Routinely, our college guys take swings from 8-10pm on a Friday night. If you are not working on your skills while your competition is out partying on a regular basis you rarely have a leg up on them.
Have you trained in the weight room at least 2x per week for the last 3-months?



If not, you are at a distinct disadvantage in regards to athletic potential and injury prevention. I believe for an athlete to even bother to go to a showcase he should have a solid 3-6 months minimum of organized training under their belt. If you don't enjoy the process of getting better and training, you will likily not make a great college player.

Check out this day in the life of a college baseball player article https://www.theodysseyonline.com/college-baseball-the-16-hour-day

Have you recently taken a video of your 60-yard dash?I can't tell you how many athletes tell me they run a 6.8-7.0 60-yard dash and when I ask them for a video of it they can only produce a video of them running an 8.2. Video does not lie. Get over the fact that you are not fast and figure out how to fix it.Unless you are a pitcher that throws mid 80s+ MPH or skill position guy that can legit hit the ball 400 feet, I would not recommend showing off your "skills" unless you run below a 7.5 60-yard dash.
Have you recently taken a video of yourself… pitching, fielding, hitting?Pitchers —get on video with multiple shots at different angles— and at least one behind the backstop with a radar gun in view.Hitters —get a few views of you swinging and fielding/throwing.For all position, be honest with yourself. How athletic do you look? What do your mechanics and movements look like compared to the MLB version of you? Adjust accordingly.
What's your GPA?We all hear stories of guys who throw 90 MPH and rock a 2.0 GPA and he got a college scholarship, but let's face it, you are probably not that guy— and that story was probably fabricated.Just like point #3, unless you are a pitcher throws mid 80s+ MPH or skill position guy that can legit hit the ball 400 feet, I would skip the showcase if your GPA is under a 2.5. Do yourself a favor and take summer classes to bring your GPA to that 3.0 range.Don't think it really matters? Ask any DI program what their minimum team GPA and SAT scores need to be.
Do you look the part?Coaches will say that looking the part is not that important as they are looking more for the skill and potential of the player but in my experience, this is incorrect. In fact, I often hear coaches state things like "look at that guy, he has obviously put in the work in the weight room" or "this kid swings well, but he needs to figure out where the kitchen is".
My 90 MPH formula for pitchers gives a guideline on weight I like to see our pitchers at. It get's a little trickier for position players, but as a general rule, take your height in inches and multiple it by 2.5 and that is a good baseline for most athletes to start "looking the part".
What other aspects do you think are important at your showcase? Where do you think you are lacking the most?  
Leave your feedback below in the comments and I will gladly reply.